The Rinsho Buddhism Chaplaincy Training Program
5th Comprehensive Training Session (2018-19)
While we exist in society,
We hold on to one thought:
Understanding the reality of birth, aging, sickness, and death,
we take hold of the present moment
Since opening its 1st Comprehensive Training Session in Tokyo in the Kanto region of Japan in the Spring of 2013, the Rinbutsuken Institute for Engaged Buddhism has completed three full sessions. Each has lasted 18 months to 2 years and involved an initial lecture series, a workshop and training series, and a residency period in a selected field of work. The lecture series has generally accommodated 80 students of which roughly half have moved onto the workshop and training series. After a written examination and simulated role-play oral examination, candidates have been further narrowed down to roughly 15-20 chaplains-in-training who begin their residencies. The residencies consist of 100 plus hours of on the job training to be completed within six months. The goal the Rinbutsuken Institute is to produce the highest level of training possible so that its chaplains may successfully enter a wide variety of environments while gaining the trust of other care professionals for their high level of competency. In this way, the final confirmation of Rinsho Buddhist Chaplains has not been many with around 2-5 chaplains graduating from a single series. As we near the end of the 4th Comprehensive Session, the total number of Rinsho Buddhist chaplains is 15 from the first three sessions.
While the progress may seem slow from this perspective, the work of the Institute continues to grow. The 4th Comprehensive Session was for the first time held in Kyoto in the Kansai region of Japan drawing on candidates from more diverse regions of Japan. It was co-sponsored by Hanazono University, affiliated with the Rinzai Zen Myoshin-ji Denomination, and actively supported by the most eminent Roshi Taitsu Kono, former Chief Priest of the denomination and head of the university. Rinbutsuken has also collaborated with a number of prestigious organizations in hosting public seminars on critical themes related to chaplaincy and psycho-spiritual care. For example, in September of 2016, Rinbutsuken partnered with the Kyoto University Kokoro (Heart-Mind) Center and one of its leading researchers Carl Becker to hold a symposium entitled "Considering Life (Inochi) Care: What Sort of Spiritual Care can be Adapted to Japanese Spirituality?". The symposium paved the way for the subsequent 4th Comprehensive Training Session held in Kyoto. In November of 2017, Rinbutsuken partnered with the Sophia University Institute of Grief Care and the Tokyo Jikei Medical University Palliative Care Center for a symposium on "Contemplative Care & Spirituality: Going Beyond Mindfulness Practice for Being with Suffering & Grief". This symposium signaled the growing partnership with Tokyo Jikei Medical University, one of Japan's oldest and most prestigious medical schools, and Dr. Naohito Shimoyama, Head of its Department of Palliative Medicine. At the same time, Rinbutsuken's top chaplain-trainers?Rev. Hitoshi Jin and Rev. Gakugen Yoshimizu?have joined the Jikei Palliative Care Center as spiritual care workers, marking a major shift towards a Team Care approach and the inclusion of religious professionals, which is so often lacking in Japan. In this way, Rinbutsuken is taking a pioneering role in both transforming the attitude of traditional Buddhist universities and denominations as well as Japanese medical institutions towards chaplaincy and psycho-spiritual care.
Below is a summary of the initial lecture series of Rinbustken's 5th Comprehensive Training Session, which began in the Autumn of 2018 back at it's original location at the Tokyo University Young Buddhist Association Hall.
2018-19 5th Comprehensive Level 1 Lecture Series

October 24: The Space between Religion and Medicine: Learning from Caring for One's Family
Speaker: Dr./Rev. Teiga Tanaka (Palliative Care Doctor and Buddhist Priest at Fumon-in Temple Medical Center)
In the face of death, patients and families may become bewildered as they hold on to feelings of anxiety and fear. In her work, Rev. Tanaka has had to face the feeling of powerlessness as a medical professional and to learn to face patients as a religious professional. She will speak about how we can become aware and learn to practice as both a religious and medical professional based on her experience of caring for her own husband, Rev/Dr. Masahiro Tanaka.
November 14: Supporting the Homeless and Children Living in Poverty: The Way of Buddhist Reconnective Relief Work
Speaker: Rev. Gakugen Yoshimizu (Hitosaji "One Spoonful" Association)
The social gaps in Japan's society today are becoming increasingly obvious. During the era of high growth in the 70s and 80s, the elderly had been always been supported. However, increasing numbers are now living in the streets, and children growing up in poverty are left to feed themselves. Rev. Yoshimizu will speak about the art of supporting such people in specific localities.
November 28: Providing Aid and Caring to Local Communities: The Way of Linking Skilled Professionals
Speaker: Rev. Kyoshin Kusunoki (Rinsho Buddhist Chaplain, Fukushima Prefectural School of Medicine Aizu Medical Care Center)
Amidst the transition into a society of mass death and medicalization of the elderly, the people who are engaging in terminal care are shifting their efforts from hospitals to local communities. From the position of comprehensive community care, we must consider how to link together skilled professionals like doctors, nurses, Buddhist priests, and so forth.
December 12: Japan's Policy towards Constitutional Reform, Nuclear Energy, and Peace: A Foolishness Replete with Defilement (kilesa/bonno)
Speaker: Rev. Ryumyo Yamazaki (Professor Emeritus Musashino University, Director of the World Conference for Religion and Peace (WCRP) Peace Studies Institute)
The revision of the Japanese constitution has the purpose of enabling the country to engage in war. There is also the movement towards restarting the nation's nuclear power plants without a guarantee for their safety. These are tacit shifts in the wrong direction. As Buddhists, we inhabit bodies replete with defilement, yet how should we aim towards peace in our minds and in our society?
December 26: Disaster Aid and Footbath Therapy: The Meaning of Washing the Feet of Disaster Victims
Speaker: Rev. Gaei Tsuji (Shingon Denomination Mt. Koya Footbath Corps)
Footbaths as a bodhisattva practice of compassion in Japan have a history spanning over 1,000 years since the age of Empress Komyo (701-760). The people who have continued this practice as volunteers providing deep listening while performing footbaths in the recent disaster areas of Noto, Miyagi, and Kumamoto are now questioning the state of Japanese Buddhism and its followers.
January 9:: Intimate Nursing Care: What are the real demands for care by patients and their families?
Speaker: Masako Fujisawa (Professor, Shukutoku University Junior College)
This presentation will look at the clinical environment from the perspective of the nursing professional and educator as well as patient. What do we feel that we can ask as we gaze at the ongoing process of birth, sickness, aging, and death? As Buddhists, what is the true meaning of "intimacy" or being present? We will consider these issues through a number of case studies.
January 23: Whole Person Medicine: A Consideration of Team Care
Speaker: Dr. Naohito Shimoyama (Head of the Department of Palliative Medicine at Tokyo Jikei Medical University)
The World Health Organization created the definition of Whole Person Care in this present era. However, Dr. Kanehiro Takagi (1849-1920) held the same vision when founded Jikei Medical University, which is seen in the university's motto, "To treat the person, not the illness". This presentation will show the way of Whole Person Care through the practice of team care in a palliative care unit.
February 13: Aum Shinrikyo and Buddhism: What kind of response is needed from Buddhists today?
Speaker: Prof. Susumu Shimazono (Director of the Sophia University Grief Care Institute)
13 of the former leaders of the Aum Shinrikyo cult have now been put to death. However, there are still young people joining the religious sect that was set up to succeed Aum. Concerning this matter, what should we be asking of Buddhists and their temples who are often criticized for "only offering nice background scenery".
February 27: The Social Contribution of Buddhism: The Foundations of Engaged Buddhism
Speaker: Prof. Kenryo Minowa (Professor, Tokyo University Graduate School)
What kinds of positive support can Buddhists connect themselves to in the face of the suffering people experience from poverty, discrimination, suicide, and the increasing severity of natural disasters? This presentation will consider the foundations of the practice of Engaged Buddhism both within Japan and abroad.
March 13: Being Present and Intimate with the Mind of the Child: Various Aspects of Children as seen from the activities of Childline
Speaker: Rev. Hitoshi Jin (Rinbutsuken Institute for Engaged Buddhism, Jikei Medical University)
The social environment surrounding children these days is severe with abuse, school dropouts, bullying, and suicide. It is said that the threshold of a Buddhist temple's entrance is high, so we must question in what way priests and their temples can come out and engage in the anxiety and suffering of children today.



The Start of the 5th Comprehensive Session of
the Rinsho Buddhist Chaplaincy Training Program
A Story of Caring for One's Husband by Dr./Rev. Teiga Tanaka
Bukkyo (Buddhist) Times November 1, 2018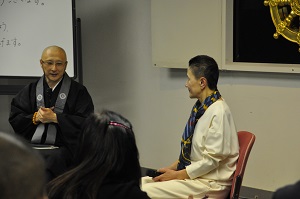 The Rinbutsuken Institute for Engaged Buddhism under the Zenseikyo Foundation & Buddhist Council for Youth and Child Welfare opened its public lecture series of the Rinsho Buddhist Chaplaincy Training Program on October 24th at the Tokyo University Young Buddhist Association Hall. The opening lecture was given by Dr./Rev. Teiga Tanaka, the wife of Dr./Rev. Masahiro Tanaka, a priest of the Shingon Busan Denomination and medical doctor who died suddenly last year from pancreatic cancer. Rev. Tanaka spoke on the topic of The Space between Religion and Medicine: Learning from Caring for One's Family. As she herself has ordination as a priest, she spoke of the path that she and Rev. Tanka both walked as priests and doctors and of the experience of caring for Rev. Tanaka as a medical doctor and family member.
In a discussion session with Rev. Hitoshi Jin, Senior Research Fellow of the Rinbutsuken Institute, Rev. Jin asked her, "In looking back on the achievements of your husband in promoting the necessity of religious professionals in medical environments, what were the complications or conflicts that you faced in caring for him in his final stages?" She said that while he was still of sound mind, he said, "I do not wish to be resuscitated. However, he did not specify up to what point life saving treatment should be continued. I tried to do everything possible, but when his breathing became weak, it was unavoidable that we intubated him. In the end, I guess that he may have been angered to eventually pass away this way."
Rev. Jin himself has experience in providing care in medical environments as a spiritual care worker at the Tokyo Jikei Medical University Palliative Care Unit, so he alluded to situations of conflict between families and patients who did not want to receive life extending treatments. He noted that, "The mind of both the patient and their families often shifts quickly, so it becomes very important to constantly provide a feeling of intimacy and presence for them." In this way, he explained that religious professionals as part of the medical team must be mindful of the environment and know how to be present with the wishes of the family for their loved one to "just remain in the world a little longer".
Dr/Rev. Teiga proposed that as religious professionals begin to enter medical environments in Japan as act as guides that, "I would really like to see them also visit their temple members when they end up in the hospital." When priests perform such visits, they may have some doubts in their minds, but "as they step forward without losing their nerve, it will become increasingly natural to them. This is what my husband would want." Finally, in touching on the nuances of nurses who continue to commit murder at hospitals, she pointed out that, "There is a need for religious professionals who are able to listen to nurses, doctors, firefighters, police officers, and people working in all parts of society." She expressed her hope in conclusion that the participants and chaplaincy candidates in attendance would be inspired to engage from her talk.


Level I (2014): The Rinsho Buddhism Chaplaincy Training Program
Level One (Knowledge & Study) Year II (2014)
Lecture Series

How can Buddhists become intimate with
the heart/minds of people in contemporary society?

October 15, 2014 - February 18, 2015
Taisho University, Tokyo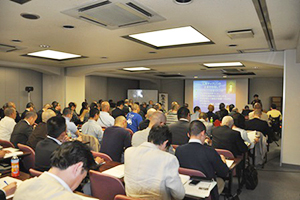 October 15: The Japanese View of Life and Death: An Introduction to Rinsho Buddhism
Since ancient times, the Japanese have believed in a myriad of spirits (kami), yet they were malleable enough accept and develop faith in Buddhism. From this perspective, we will try to unravel Japanese religious sensibilities and their view of life and death, while considering the role Buddhism can carry out in contemporary clinical settings.
Speaker: Prof. Susumu Shimazono (Director of the Sophia University Grief Care Research Institute)
October 29: Listening Deeply to the Heart/Mind (kokoro/citta): The Activities of the Cafe de Monk
In facing the reality of the Great Eastern Japan Disaster of 2011, many religious professionals were at a loss for words to offer from a spiritual standpoint. But what can be said about "the truth that emerges from the dark wreckage?" In this session, we will look back on the lessons learned through the activities of the Mobile Tea House for Deep Listening known as "Cafe de Monk".
Speaker: Rev. Taio Kaneda (Supervisor of the Mobile Tea House for Deep Listening-"Cafe de Monk")
November 5: At the End of the Journey: A Doctor Speaks about Terminal Care
Everyone will without doubt come to experience the final moments of life. At this time, what will a person come to think about and what will they find they need? This session will speak about interacting with patients at a Buddhist hospice and how to lend an ear to "the message of life" coming from such patients.
Speaker: Dr. Moichiro Hayashi (Head Doctor of the Kosei Hospital Palliative Care Unit affiliated with the Rissho Koseikai Buddhist Denomination)
November 19: What Lurks Behind the Heart/Minds of the Young
At first sight, the youth of this contemporary age seem like "good kids". But what is at the root of the problematic behavior of those troubled youth caught up in everything from social withdrawal (hikikomori) to involvement in destructive religious cults? This session will look at these issues from counseling work done on site with such young people.
Speaker: Rev. Taido Kusuyama (Director of the Young Person's Mental Health Consultation Center)
December 3: Emotional Security for a Society Filled with Anxiety: The Network of Buddhists for the Prevention of Suicide
The rate of suicide in Japanese society continues to be high. Why do people feel as if they have been driven into a corner and what kind of thoughts do bereaved family members continue to hold within themselves? Buddhists should turn their gaze towards the lives of these people and apply their practice.
Speaker: Rev. Mariko Yanagawa (Vice Director of the Association of Buddhist Priests Confronting Self-death and Suicide)
December 17: The Practice of Education and a Modern Version of the Terakoya Temple School: The Potential of Cooperation with Local Temples
These days problems occurring at educational facilities like truancy and bullying continue to mount. We have been directing our attention to education connected to families, localities, and this wayward generation of youth, while also working to revive "the power of place" at religious facilities. We have been studying from a cooperative model bringing together these three groups as one.
Speaker: Masayuki Ikeda (Consultant for the Kamakura Terakoya)
January 7: What Does It Mean to Be Alive? Buddhism Becoming Intimate with the Anxiety of the Young
Places to commit suicide are posted on line … The internet overflows with the bitter feelings of the young. There are Buddhists who are getting intimate with this situation by making use of social media. In a time prone to isolation and helplessness, Buddhists must carry out such a role.
Speaker: Rev. Jotetsu Nemoto (Director of the Association of Religious Professionals Confronting Life)
January 21: In an Age of No Religion: Confronting Depopulation and Isolation
Since the Great Eastern Japan Disaster of 2011, there has come the call to reconsider the primacy of economic growth and to look for another set of values. Buddhists must give rise to new kinds of karmic connections by foremost engaging with others in hands on activities to revive their localities.
Speaker: Rev. Toshihide Hakamata (Director of the Thinking about Our Hearts and Lives Association)
February 4: The Role of Buddhist Chaplains: Buddhists Taking on Places of Birth, Aging, Sickness, and Death
Outside of Japan, we can find religious professionals called chaplains who provide spiritual care in places like prisons, nursing homes, and hospitals. In Japan today, there is a strong allergic reaction to religion by common people, so Buddhists who are called to such work must have strong faith and conviction.
Speaker: Rev. Mari Sengoku (Supervisor for the Naikan Center for Awakening Mind and Body)
February 18: The Mission of Rinsho Buddhist Chaplains in Contemporary Society
It is said that our contemporary society is one devoid of spirituality. In this way, why would there be a need for Rinsho Buddhist Chaplains? While recapping the lectures of the entire program, we will consider the meaning of Rinsho Buddhism, the role that Rinsho Buddhist chaplains are being called on to fulfill, and the practice they must pursue.
Speaker: Rev. Hitoshi Jin (Senior Research Fellow, Rinbutsuken Institute for Socially Engaged Buddhism)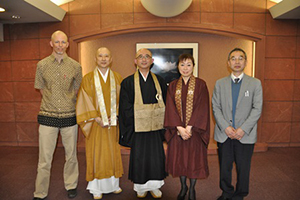 Lectures run from 6:30 - 8:00 p.m.
Fees: 10 lectures; 28,000 yen (25,000 for students)
Registration limited to 100 persons
For more information on our program contact us at:
Rinbutsu-ken Institute
Tsukiji AI Building 5F
Tsukiji 3-7-5, Chuo-ku
Tokyo 104-0045
Tel: 81-3-3541-6746
Fax: 81-3-3541-6747
e-mail: thinktank@zenseikyo.or.jp
http://www.zenseikyo.or.jp/
We also have a page on Facebook under臨床仏教研究所